PAUL-F.COM
RECOLLECTIONS
AE50 with Chrome Trim
Full Chrome trim includes:

- Fingerwheel

- Handset Bands


Much more impressive in person!


View showing the vents on the side.

There are 2 groups of 10 vents on each side and
8 on the bottom, for a total of 48.
(One for each state in the union at the time!)

Imagine how much fun it is to clean each one!

Close-up of the cradle area.
---
Reserve one now! e-mail: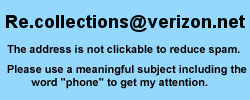 ---
THANKS FOR VISITING!
©2001-12, Recollections. All rights reserved.