Western Electric 525B Weatherproof Housing
For outdoor use. Marked 525B. The inside of the door has the door's part number: P-14E200. The door is spring-loaded to close automatically.
The #6 dial has a nice procelain daisywheel surround and plain white number plate.
Inside, the hookswitch has an interesting mount above the dial. The network and ringer look familiar.

Has a space for an optional KS-8028 lock, which uses a skeleton key. The keyhole has a ridge over it to direct rainfall away from the hole.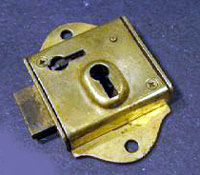 KS-8028 lock. See key detail below.

Threaded holes on the top and bottom provide conduit access.