PAUL-F.COM
Topics on this page. (Use your browser "back" function to return here.)

---
Customer satisfaction and quality of life (for both of us) are very important to me.
This page describes the relationship I have with my customers, based on years of mostly successful dealings.
Please contact me with any comments or questions.

All telephones are genuine vintage items.
Refurbished sets are used and can be expected to show signs of use and wear if you look closely.
They look great from a normal viewing distance.

Phones are sold primarily as collectibles for display, and occasional demonstrations.
Many phones on the site were made in the 1930s-60s and were never intended to be in service in the 21st century.
Some of the later phones, beginning with the WE500s can be expected to provide reliable service.

Let me know if you plan to use the phone.
Early phones intended for use on the public network should have replacement handset and line cords.
Insulation on early cords deteriorates and becomes unreliable.
Dials should be thoroughly serviced.
Early phones may not be compatible with the modern phone network without additional circuitry.
The buyer is responsible for understanding and satisfying any phone company requirements before hooking a phone to their network.

Many phones have internal adjustments that were originally set by the phone company installer.
Some, such as ringer bias, may need to be adjusted when you install your phone.
Although most work fine after my testing, I will provide detailed instructions and work with you to make any needed changes.


Phones not sold "as is" are covered by a limited warranty for 90 days of normal use from receipt,
and are not warranted for compatibility with any public network, for damage caused by accident or in shipping, or for a particular use.

Refurbished telephones are used items that are sold as collectibles intended for display and not as telephones intended to be used on a daily basis. They were made by companies that generally no longer manufacture telephones, and are years beyond their original projected lifetimes.
Phones will be repaired or replaced (Recollections' choice) at no charge for parts or labor if returned postage paid.
Return shipping within the US will be paid by Recollections.
A refund may be given if, in Recollections' opinion, repair or replacement are impossible.

Please send an email describing problems before shipment. Perhaps they can be remedied remotely!
It's always best to minimize handling risks, wherever possible.

Please read the complete warranty terms before ordering.

Click here to see or download the complete warranty terms in PDF format.

- - - - -
NO WARRANTY FOR "AS FOUND" PHONES
Phones sold "as found" are untested and are intended for collectors or refurbishers who prefer to do the restoration work themselves, or for use as props or displays, where the detailed cosmetic or working condition are not important.
These phones are sold completely "as-is", with no warranty, and if returned are subject to a 40% restocking fee. You can generally expect questionable cords, worn number plates on the dials, surface scratches, cosmetic blemishes and dirt.
(I hate to oversell "as found" phones. Yes, I do really have some customers who prefer them this way!)
---
ABOUT ORDERING, PAYMENT and SHIPMENT
Your privacy is assured. Your information is NEVER shared with others!
Send a list of your specific requirements or questions.
Include wish list items not seen on this site -- there are lots more phones in inventory.
I will respond with availability, detailed descriptions and pricing, including taxes and shipping.
Payment in US$ may be by:
US Postal Service Money Order in US Funds (available only at Post Offices) or
MasterCard/Visa/Discover/American Express/Bank Transfer payments thru PAYPAL.COM
(Paypal frees me from having to maintain a secure web site, I never have access to your credit data, and it's fast.) or
Personal Check drawn on a US bank or non-USPS Money Order (allow 10 business days to clear).

Paypal is recommended for all payments from outside the US.
Contact me for details.
Shipment will be made when funds clear and work is completed.

Unfortunately, I can't always accurately predict how long it will take to complete work on your phone.
Some phones are relatively simple, while others (like the AE40 and AE50) have many interesting nooks and crannies to clean.
Some may require repairs.
Most work is done by hand.
Your phone may go smoothly, but a phone in line ahead of it may be a challenge.
I have to schedule my time with other work and family demands.
I plan to work extra hard during expected peak gift times, such as Christmas and Valentine's Day,
but it's always wise to order well in advance, if possible.
If you have a time target, let me know and I will try to meet your request.

Most orders are shipped UPS Ground unless another service is requested.
Light orders are shipped USPS Parcel Post or Priority insured unless another service is requested.
Orders sent outside the US or Canada are normally shipped by USPS Global Express,
which is an air service and provides tracking. Unfortunately it's expensive.

Please note that title to your purchase transfers to you when it leaves my possession.
As I personally do all the work and phones are custom finished to order,
Sales are final. Phones are not sold on approval

Insurance and tracking may be declined at your risk.
I will assist as appropriate in the filing of insurance claims for damage in transit.

Packing with lots of bubble wrap and styrofoam virtually assures your purchase reaches you safely.

Being environmentally conscious, I recycle packing material wherever posssible.

Please resolve any questions before ordering!


Although phones are not sold on approval, I do value customer satisfaction and want you to be happy with your purchase.
Please notify me of your intent to return a phone in advance for shipping details.
Returned phones must be sent within 7 days of receipt and received at Recollections in as-sent condition.
Recollections will send a refund of the purchase price (not including shipping either way or any custom services).
Claims for any shipping damage must be filed with the carrier and processed before refunds are issued, so pack carefully!
Follow this link for packing hints.

A 40% restocking fee applies to returned "as is" phones.
---
Send a description (and photo, if available) of the phone and problem.
I will send an estimate based on your description.
Send the phone, including a $25 non-refundable inspection fee (applied to any service performed) plus return postage.
Follow this link for packing hints.
Upon inspection, I will send a quote for either fixed price or time and materials work to be performed.
After your approval, I will perform the service and send the final bill.
After payment clears, I will return the phone to you.
Work is warranted for 90 days.
Repairs involving operational components are warranted as described under Warranty.

---
Q: Will the phone work on my phone line?

A: If you phone line supports "POTS" telephones (plain old telephone service), it should support any of these phones as well. Modern digial systems, such as those found in businesses or broadband-based phone service may not support POTS phones or rotary dialing. Some service providers support rotary dialing on some interfaces, but not on others, so you should contact your provider for specific details.


Q: Why don't you support on-line ordering?
A: I prefer to offer personal service in the form of finishing phones to order, rather than selling them off-the-rack. There are so many models, feature options and permutations of starting conditiion and refurb possibilities that on-line ordering would limit our interaction.
Q: Who don't you answer my emails?

A: Some email providers have strange rules for filtering incoming email, and they change periodically. If you expect a response from me and don't get it within a few days, check to see if it may have been directed to a SPAM or JUNK folder. If so, mark it as not spam and make sure the address is on your safe senders list.


Q: Why don't you catalog all the phones and options you have for sale?
A: There are too many. I sell using methods other than the internet, such as by phone and at various shows. I also buy collections and trade with other collectors and dealers. I find these activities and refurbing the phones more interesting than being a slave to the computer.
Q: Why are the phones so expensive? I can buy them cheaper at the flea market, yard sales or auctions.
A: So can I. You're paying for my time and expertise. I have a degree in Electrical Engineering and have been tinkering with phones, amateur radio and computers for over 35 years, and am an active member of several collecting clubs. Each refurbed phone takes several hours of my time, and many require repairs and parts, so you can just plug it in and watch it work. A good portion of my business is refurbing phones that my customers have inherited or found while antiqueing, picking or at auctions. The cost of repair and refurb is usually higher than the original cost of an "as found" phone.
Q: Why does it take so long to get my phone?

A: Each phone is refurbished to order. I do all the work personally, and give each phone the same care as the phones in my own collection. If it doesn't pass my tests, it's simply not ready for shipment. If you're in a hurry or have a time deadline, let me know and I'll try to accommodate your request. For more on this topic, see the
ordering section.


Q: Do you sell phone booths, payphones, wood wall phones, switchboards, switching gear and parts?
A: I usually don't stock large and heavy items, due to storage limits. I have hundreds of desk and wall sets in storage, and focus on the popular models pictured on the site. Please contact me with your want list, as I have hundreds of items that are not mentioned on the site, and have many contacts that may help find the object of your search. Remember that I also repair many models that I don't normally stock.
Q: Do you give a discount for multiple orders?
A: Of course. I pass along reasonable economies by combining shipping and handling costs. I also reward repeat customers, as it's easier for both of us to work together after several orders. I enjoy long term relationships with collectors who are gradually filling in collections of variations of a particular manufacturer, model or series -- such as SC bakelite sets or Western Electric Princess sets. Customers include individual collectors and non-collectors, as well as decorators, companies, dealers, theatrical groups, hotels and resorts. No request is too far out. Let me know how I can help.
Q: What's so interesting about old phones?

A: Naturally, this is a matter of personal taste. I was surprised to find how many people collect telephones. Many are former telephone company employees who remember working with them, but many are also just interested in having a deco or retro look in a room at home or work. I've been amazed to find how many different models and variations were made over the years. With all the technical progress that's been made, it astounds me that a dial candlestick phone made before 1920 can still be attached to a phone line and will still work just fine. For some of the phones I've encountered, please visit
www.paul-f.com


Q: Will you buy my phone?
A: Possibly. I am primarily a collector in search of interesting and unusual phones. Some examples include non-production sets (design concept models, prototypes and field test units), or variations of standard models that have extra features. You'll find a list on the wanted page at:
paul-f.com/wanted.html
. I'll pay well for a phone or phone-related item that's not in my collection, or a fair wholesale price for other phones. Send a photo and complete description of your item(s) for sale, including features and condition.
---
Please send e-mail to: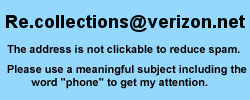 ---
THANKS FOR VISITING!
©2001-20, Recollections. All rights reserved.